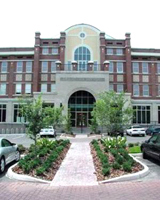 Mailing Address
National Center for Occupational Health and Infection Control
1601 SW Archer Road (151B)
Gainesville, FL 32608
Local Address
Commerce Building, Suite 280
300 E University Ave
Gainesville, FL 32601
Download a map to the COHIC. (223 KB, PDF)
Questions and Comments
For general questions and comments, contact the COHIC:
Email: VHACOHIC@va.gov
Telephone: 352-376-1611 x4915
Fax: 352-379-7497
Note: E-mails sent to this address are not secure. Please do not include personal data. To send a secure e-mail, use VA's Ask a Question - IRIS (a secure website contracted to VA). Scroll down to the middle of the right-hand side of the page to find "Ask a Question."
Contact VA
Veterans who have health concerns can: