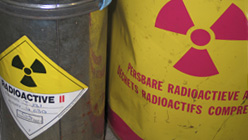 There are two broad types of radiation, non-ionizing and ionizing. Ionizing radiation sends out extremely high energy, which may pose a health risk. Ionizing radiation exposure comes from a variety of sources, including nuclear weapons testing or other activities during military service.
VA offers a free Ionizing Radiation Registry health exam to all eligible Veterans to alert them to possible long-term health problems.
Related Diseases

Find out what diseases are related to radiation exposure.

 

VA Benefits

View benefits for Veterans exposed to radiation and their survivors.

 

Radiation Exposure

Determine whether you were exposed to radiation during military service.

Provider Resources

VA has resources to help providers care for Veterans.

 

Research Studies

Find out what radiation-related research is completed and ongoing.

 

Publications

View publications and other materials related to radiation exposure.