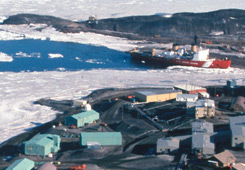 The U.S. Navy operated a small nuclear power plant (PM-3A) at the McMurdo Station, Antarctica, from 1964 to 1973. Operation Deep Freeze was the military unit launched in 1955 that supported scientists conducting polar research.
Review of McMurdo reports
The Department of Defense (DoD) is reviewing the PM-3A Final Operating Report (4.2 MB, PDF) and other sources, and has started a dose reconstruction effort to characterize the radiation releases at McMurdo.
VA is consulting with DoD during this process.
Potential health risks
DoD and VA are assessing whether radiation exposure at McMurdo Station may have caused some Veterans to develop cancer and other radiation-related diseases.
VA already recognizes certain cancers and other diseases as linked to exposure to ionizing radiation during military service. Eligibility for VA compensation depends on a number of factors, such as the radiation dose and when the disease develops.
Health concerns?
If you are concerned about radiation exposure during military service, talk to your health care provider or local VA Environmental Health Coordinator.
Veterans not enrolled in the VA health care system, find out if you qualify for VA health care.
Need help determining exposure?
VA can help determine exposure during military service after you file a claim for disability compensation or survivors' benefits for health problems associated with radiation exposure during service.
Related Benefits
Other Exposures