Volume 6, No.1       March 2012 
IN THIS ISSUE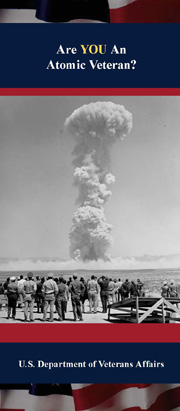 The Office of Public Health, Department of Veterans Affairs, has published a new brochure titled, Are YOU An Atomic Veteran? (1.2 MB, PDF) that provides information to Veterans exposed to ionizing radiation during their military service.
Topics include: presumptive service‑connected health conditions, health registry evaluation, benefits and claims, and the Veterans' Advisory Board on Dose Reconstruction (VBDR).
Other Features in this Issue
VBDR Continues Work for Atomic Veterans, Plans San Antonio Meeting for March 2012
Update: Veterans Advisory Board on Dose Reconstruction New Chair Appointed
VBDR Loses its First Chairman
Free Health Registry Evaluation for Veterans Exposed to Ionizing Radiation
VBDR Announces 2012 Public Meeting
VA Benefits and Services for Aging Veterans
Connect to VA Caregiver Support
Disability Compensation from VA
Annual VA Benefits Book is Available
Download full issue. (1.9 MB, PDF)
The Ionizing Radiation Review is produced by VA's Environmental Health Program.