These posters provide information on personal protective equipment (PPE) for clinical audiences throughout the VA health care system.
Posters are not copyrighted and may be reproduced. You may print them on 8.5" x 11" paper using a standard office printer.
VA employees may refer to VHA Influenza and Educational Resources (435 KB, PDF), Section 8 of the VA Influenza Manual, for a list of materials stocked for distribution.
Read tips on displaying posters for target audiences.
Flu 9 - When You Care for a Patient with ... (264 KB, PDF)
Dimensions: 8.5" x 11"
Target audience: Clinical
---
Flu 10 - Infection Control Management (356 KB, PDF)
Dimensions: 8.5" x 11"
Target audience: Clinical
More posters
View more posters in different categories: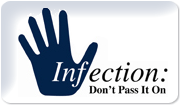 Contact VA
Veterans who have health concerns can: