The first week in April is National Public Health Week. It is celebrated by focusing attention on issues that promote health, wellness and safety across the country.
Choose healthy, safer living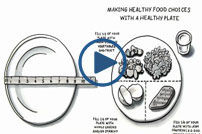 Eat Wisely
Video Length: 02:22
Start with these small but helpful actions:
Eat healthy meals.
Get enough exercise.
Get routine screenings, such as HIV testing.
Keep up-to-date on immunizations.
Wash hands to help limit the spread of infection.
Public health saves lives, saves money
In 2013, Public Health Week is about raising awareness of the value of public health and prevention in our lives, our health and our pocketbooks.
Here are some real-life examples of the public health return on investment from the American Public Health Association.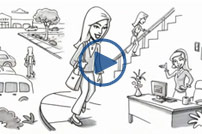 Be Physically Active
Video Length: 01:45
About 42,000 adults and 300 children die every year from vaccine-preventable disease. Every dollar spent on childhood immunizations alone saves $18.40.

 

If 10 percent of adults began walking regularly, $5.6 billion in heart disease costs could be avoided.

 

From 1991 to 2006, investments in HIV prevention averted more than 350,000 infections and saved more than $125 billion in medical costs.

 

If every state without a comprehensive smoke-free policy adopted one, they could reduce smoking-related deaths by 624,000; thereby, saving more than $316 million in lung cancer treatment and more than $875 million in heart attack and stroke treatment over five years.

 
Related Links