Attention A T users. To access the menus on this page please perform the following steps. 1. Please switch auto forms mode to off. 2. Hit enter to expand a main menu option (Health, Benefits, etc). 3. To enter and activate the submenu links, hit the down arrow. You will now be able to tab or arrow up or down through the submenu options to access/activate the submenu links.

Addictions and Tobacco Use
The co-occurrence of a substance addiction and tobacco use is well documented. Individuals with an addiction are 3-4 times more likely to use tobacco than someone without an addiction. Among Veterans with an addiction in VA care, nearly 54% identify themselves as smokers.
Health effects of addictions and tobacco use
For individuals with a substance abuse disorder (SUD) who smoke, they experience health effects that include:
A death rate four times higher for individuals with a long-term SUD who smoke compared to non-smoking individuals with a long-term SUD
Approximately 50% of deaths among people with alcohol dependence are due to tobacco-related disease
The use of alcohol and smoking together puts an individual at higher risk of mouth or oral cancer, esophageal cancer, and heart disease
Treating addictions and tobacco use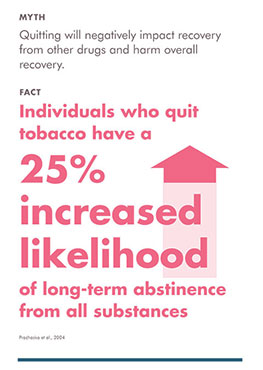 Providing smoking cessation interventions in addiction treatment settings improves the health of Veterans because:
It allows VA providers to reach a group of Veterans experiencing the synergistic negative health effects of multiple addictions
Most individuals with an addiction are interested in quitting tobacco
Attempting to quit smoking does not destabilize an individual's addiction treatment
Individuals who quit tobacco have a 25% increased likelihood of long-term abstinence from all substances
Sequence of treatment does not matter
When offering cessation treatment to an individual with an addiction, the sequence of smoking cessation treatment and addiction treatment does not matter. Cessation treatment provided concurrent with or sequential to addiction treatment results in the same positive outcome—increased abstinence from tobacco and other substances.
What is important is to ask all tobacco users in addiction treatment if they would like to quit and whether they want to make that attempt while in treatment or in recovery. It is important that patients know providers are ready to assist them in their quit attempt whenever the patients are ready.
Tobacco cessation can aid recovery
In some addiction treatment settings, providers may be reluctant to introduce smoking cessation interventions. Providers may think it is too much to ask someone to forego tobacco while they are trying to abstain from another substance as this may undermine their addiction treatment. Yet research has shown that in general, smoking cessation does not adversely affect individuals in addiction treatment and can actually aid an individual in their overall recovery.
What is helpful to providers in addiction treatment settings is organizational support for integrated care and training on how to provide tobacco cessation services.
Substance abuse providers can help
Addiction care providers are well suited to address tobacco cessation because they:
Have an existing therapeutic relationship with the Veteran making it appropriate for them to address tobacco use as a chronic disorder
Are skilled to offer cessation counseling because of their expertise in behavioral counseling treatment
Are trained in addiction treatment
Learn more about substance use and related VA services.
Tools and publications
Sources
Berger, H., & Schweigler, M. (1972). Smoking characteristics of methadone patients. The Journal of the American Medical Association, 222(6), 705.
Bien, T. H., & Burge, R. (1990). Smoking and drinking: A review of the literature. The International Journal of the Addictions, 25(12), 1429-1454.
Castellsague, X., Munoz, N., De Stefani, E., Victora, C. G., Catelletto, R., Rolon, P. A., & Quintana, M. J. (1999). Independent and joint effects of tobacco smoking and alcohol drinking on the risk of esophageal cancer in men and women. International Journal of Cancer, 82(5), 657-664.
Duffy, S. A., Kilbourne, A. M., Austin, K. L., Dalack, G., Woltmann, E. M., Waxmonsky, J., & Noonan, D. (2012). Risk of smoking and receipt of cessation services among veterans with mental disorders. Psychiatric Services, 63(4), 325-332.
Glassman, A. H., Helzer, J. E., Covey, L. S., Cottler, L. B., Stetner, F., Tipp, J. E., & Johnson, J. (1990). Smoking, smoking cessation, and major depression. The Journal of the American Medical Association, 264(12), 1546-1549.
Guydish, J., Ziedonis, D., Tajima, B., Seward, G., Passalacqua, E., Chana, M., Delucchic, K., Zammarellid, L., Levye, M., Kolodziejb, M., & Brigham, G. (2012). Addressing tobacco through organizational change (ATTOC) in residential addiction treatment settings. Drug and Alcohol Dependence, 121, 30-37.
Hser, Y. I. Gelberg, L., Hoffman, V., Grella, C. E., McCarthy, W., & Anglin, M. D. (2004). Health conditions among aging narcotics addicts: Medical examination results. Journal of Behavioral Medicine, 27(6), 607-622.
Hughes, J. R. (1996). The future of smoking cessation therapy in the United States. Addiction, 91(12), 1797-1802.
Hurt, R. D., Offord, K. P., Croghan, I. T., Gomez-Dahl, L., Kottke, T. E., Morse, R. M., & Melton, L. J., 3rd (1996). Mortality following inpatient addictions treatment. Role of tobacco use in a community-based cohort. The Journal of the American Medical Association, 275(14), 1097-1103.
McFall, M., Saxon, A. J., Malte, C. A., Chow, B., Bailey, S., Baker, D. G., Beckham, J. C., Boardman, K. D., Carmody, T. P., Joseph, A. M., Smith, M. W., Shin, M. C., Lu, Y., Holodniy, M., Lavori, P. W., & CSP 519 Study Team. (2010). Integrating tobacco cessation into mental health care for posttraumatic stress disorder: A randomized controlled trial. The Journal of the American Medication Association, 8(304), 2485-2493.
Pelucchi, C., Gallus, S., Garavello, W., Bosetti, C., & La Vecchia, C. (2006). Cancer risk associated with alcohol and tobacco use: Focus on upper aero-digestive tract and liver. Alcohol Research & Health: The Journal of the National Institutes of Alcohol Abuse and Alcoholism, 29(3), 193-198.
Prochaska, J. J. (2011). Smoking and mental illness--breaking the link. The New England Journal of Medicine, 365(3), 196-198.
Prochaska, J. J., Delucchi, K., & Hall, S. M. (2004). A meta-analysis of smoking cessation interventions with individuals in substance abuse treatment or recovery. Journal of Consulting and Clinical Psychology, 72(6), 1144-1156.
Richter, K.P., & Arnsten, J.H. (2006). A rationale and model for addressing tobacco dependence in substance abuse treatment. Substance Abuse Treatment, Prevention, and Policy, 1(23).
Richter, K. P., Gibson, C. A., Ahluwalia, J. S., & Schmelzle, K. H. (2001). Tobacco use and quit attempts among methadone maintenance clients. American Journal of Public Health, 91(2), 296-299.
Stark, M. J., & Campbell, B. K. (1993). Cigarette smoking and methadone dose levels. The American Journal of Drug and Alcohol Abuse, 19(2), 209-217.
Sussman, S. (2002). Smoking cessation among persons in recovery. Substance Use & Misuse, 37(8-10), 1275-1298.
Williams, J., Foulds, J., & Dwyer, M. (2005). The integration of tobacco dependence treatment and tobacco-free standards into residential addiction treatment in New Jersey. Journal of Substance Abuse Treatment, 28, 331-342.
Zickler, P. (2001). Nicotine craving and heavy smoking may contribute to increased use of cocaine and heroin. NIDA Notes, 15(5).
return to top