Attention A T users. To access the menus on this page please perform the following steps. 1. Please switch auto forms mode to off. 2. Hit enter to expand a main menu option (Health, Benefits, etc). 3. To enter and activate the submenu links, hit the down arrow. You will now be able to tab or arrow up or down through the submenu options to access/activate the submenu links.

Psychiatric Disorders and Tobacco Use
Higher rates of tobacco use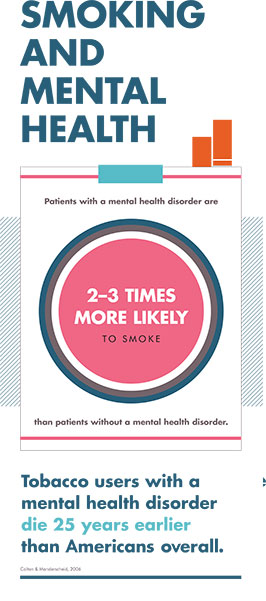 Smoking rates among individuals with a psychiatric disorder are estimated to be 2-4 times as high as the general U.S. population.
Tobacco users with a mental health disorder die 25 years earlier than Americans overall. Death is often due to diseases caused by tobacco use such as cardiovascular disease, respiratory illness, and cancer.
Mental health care is an important component of VA's care. Similar to the general U.S. population, smoking rates are elevated among Veterans in VA care with a mental health disorder, including posttraumatic stress disorder (PTSD), depression, and schizophrenia.
Not only are individuals living with a psychiatric disorder more likely to smoke, tobacco smoke itself can complicate their psychiatric treatment because it can alter the effectiveness of certain medications. Tobacco smoke can induce cytochrome P450 enzymes (CYP1A2), which in turn can decrease the effectiveness of some antidepressants and antipsychotics, including clozapine, fluvoxamine, and haloperidol.
Integrate treatment
"Those who deliver mental health care often pride themselves on treating the whole patient… yet many fail to treat nicotine dependence. They forget that when their patient dies of a smoking-related disease, their patient has died of a psychiatric illness they failed to treat." Dr. John Hughes
Integrating tobacco cessation interventions into settings that offer mental health services is supported by the U.S. Public Health Service's 2008 Treating Tobacco Use and Dependence Clinical Practice Guideline (2.4 MB, PDF).
Approximately 70% of individuals who have a mental health disorder and smoke are interested in quitting. Their readiness to quit is unrelated to psychiatric diagnosis, severity of symptoms, or the coexistence of substance use.
For providers working with individuals with a mental health disorder, it's important to understand considerations that should inform smoking cessation interventions:
Evidence-based smoking cessation interventions, such as tobacco cessation counseling interventions and smoking cessation pharmacotherapy, are effective for both individuals with and without mental health disorders.
Individuals need not be free of mental health symptoms to quit smoking, and they should be supported if they express an interest in quitting.
Individuals with a mental health disorder (or substance use disorder) may have more severe nicotine addiction than the general population and therefore may require more intensive interventions.
Individuals with a mental health disorder should be encouraged to use medications to quit smoking. They may need combination therapy, higher doses, and a longer duration of treatment than the general population. Additional monitoring by a psychiatrist may be needed.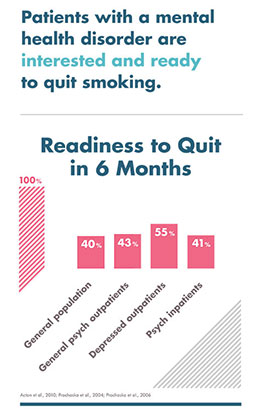 Mental health providers can help
While some providers may be reluctant to introduce tobacco cessation in psychiatric care settings, these providers are in fact well suited to address tobacco cessation because they:
Have an existing therapeutic relationship with the Veteran making it appropriate for them to address tobacco use as a chronic disorder
Are often trained in addiction treatment
Are able to identify and address any changes in a Veteran's psychiatric symptoms as the Veteran attempts to quit tobacco
Myths about tobacco and mental health
Contrary to attitudes regarding people with psychiatric disorders who use tobacco, many of these individuals do want to quit tobacco and attempts to quit will not interfere with their mental health treatment.
Myth: Tobacco is necessary self-medication for individuals with a mental health disorder
Fact: While nicotine does enhance concentration and attention, these effects are short lived and reduced through repeated exposure
Myth: Quitting smoking interferes with recovery from a mental health disorder
Fact: Quitting smoking does not exacerbate depression or PTSD symptoms or lead to psychiatric hospitalization
Myth: Quitting smoking will exacerbate the anxiety level of an individual with a mental health disorder
Fact: Quitting smoking may actually improve mood and anxiety symptoms to the same degree as prescribing an antidepressant
Myth: Quitting smoking is a low-priority concern for individuals with psychiatric symptoms
Fact: Individuals with psychiatric symptoms are more likely to die from tobacco-related disease than from mental illness
Tools and publications
Sources
Acton, G. S., Prochaska, J. J., Kaplan, A. S., Small, T., & Hall, S. M. (2001). Depression and stages of change for smoking in psychiatric outpatients. Addictive Behaviors, 26(5), 621-631.
Colton, C., W., & Manderscheid, R. W. (2006). Congruencies in increased mortality rates, years of potential life lost, and causes of death among public mental health clients in eight states. Prevention Chronic Disease, 3(2), A42.
Dalton, S. O., Laursen, T. M., Mellemkjaer, L., Johansen, C., & Mortensen, P. B. (2004). Risk for cancer in parents of patients with schizophrenia. The Journal of American Psychiatry, 161(5), 903-908.
Duffy, S. A., Kilbourne, A. M., Austin, K. L., Dalack, G., Woltmann, E. M., Waxmonsky, J., & Noonan, D. (2012). Risk of smoking and receipt of cessation services among veterans with mental disorders. Psychiatric Services, 63(4), 325-332.
Hall, S. M., Tsoh, J. Y., Prochaska, J. J., Eisendrath, S., Rossi, J. S., Redding, C. A., Rosen, A. B., Meisner, M., Humfleet, G. L., & Gorecki, J. A. (2006). Treatment for cigarette smoking among depressed mental health outpatients: a randomized clinical trial. American Journal of Public Health, 96(10), 1808–1814.
Himelhoch, S., Lehman, A., Kreyenbuhl, J., Daumit, G., Brown, C., & Dixon, L. (2004). Prevalence of chronic obstructive pulmonary disease among those with serious mental illness. The Journal of American Psychiatry, 161(12), 2317-2319.
Hughes, J. R. (2003). Possible effects of smoke-free inpatient units on psychiatric diagnosis and treatment. The Journal of Clinical Psychiatry, 54(3), 109-114.
Jann, M. W., Saklad, S. R., Ereshefsky, L., Richards, A. L., Harrington, C. A., & Davis, C. M. (1986). Effects of smoking on haloperidol and reduced haloperidol plasma concentrations and haloperidol clearance. Psychopharmacology, 90(4), 468-470.
Lichtermann, D., Ekelund, J., Pukkala, E., Tanskanen, A., & Lönnqvist, J., (2001). Incidence of cancer among persons with schizophrenia and their relatives. Archives of General Psychiatry, 58(6), 573-578.
Meyer, J. M. (2001). Individual changes in clozapine levels after smoking cessation: Results and a predictive model. Journal of Clinical Psychopharmacology, 21(6), 569-574.
Nahvi, S., Richter, K., Li, X., Modali, L., & Arnsten, J. (2006) Cigarette smoking and interest in quitting in methadone maintenance patients. Addictive Behaviors, 31(11), 2127-2134.
Poirier, M. F., Canceil, O., Baylé, F., Millet, B., Bourdel, M. C., Moatti, C., Olié, J. P., & Attar-Lévy, D. (2002). Prevalence of smoking in psychiatric patients. Progress in Neuro-psychopharmacology & Biological Psychiatry, 26(3), 529-537.
Prochaska, J. J. (2011). Smoking and mental illness--breaking the link. The New England Journal of Medicine, 365(3), 196-198.
Prochaska, J. J., Fletcher, L., Hall, S. E., & Hall, S. M. (2006). Return to smoking following a smoke-free psychiatric hospitalization. The American Journal of Addictions, 15(1), 15-22.
Prochaska, J. J., Rossi, J. S., Redding, C. A., Rosen, A. B., Tsoh, J. Y., Humfleet, G. L., Eisendrath, S. J., Meisner, M. R., & Hall, S. M. (2004). Depressed smokers and stage of change: Implications for treatment interventions. Drug and Alcohol Dependence, 76(2), 143-151.
Taylor, G., McNeill, A., Girling, A., Farley, A., Lindson-Hawley, N., & Aveyard, P. (2014). Change in mental health after smoking cessation: systematic review and meta-analysis. British Medical Journal, 348, g1151.
Yoshimura, R., Ueda, N., Nakamura, J., Eto, E., & Matsushita, M. (2002). Interaction between fluvoxamine and cotinine or caffeine. Neuropsychobiology, 45(1), 32-35.
Zarin, D. A., Pincus, H. A., & Hughes, J. R. (1997). Treating nicotine dependence in mental health settings. Journal of Practical Psychiatry and Behavioral Health, 1, 250-254.
return to top