Victoria J. Davey, PH.D., M.P.H., R.N.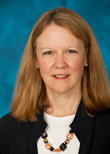 Dr. Victoria Davey became the Chief of Public Health of the Department of Veterans Affairs in June 2010. The office focuses on public health aspects of infectious diseases of special concern to the Veteran population, including HIV, hepatitis C, seasonal influenza, healthcare acquired infections and emerging infections; environmental exposures of Veterans; and occupational health.
Dr. Davey is a national expert on planning and preparedness for pandemic influenza and other public health/biodefense-related initiatives and has been principal for the Veterans Health Administration's response to the 2009 novel H1N1 flu outbreak.
She was the Deputy Chief of Public Health since 2006 where she planned, coordinated and communicated public health policies and programs for the VA health care system. Prior to joining VA in November 1999, she was an intensive care unit nurse and a HIV clinical research coordinator at the National Institutes of Health (NIH), and from 1991 to 1999 served as Associate Clinical Director of the National Institute of Allergy and Infectious Diseases (NIAID), NIH, where she was a manager of NIAID's intramural clinical research operations, including facilities, staff, clinical quality, and clinical protocol review.
Dr. Davey received an AB in Biology from Smith College, a BS in Nursing from Boston University, and an MPH from the Uniformed Services University of the Health Sciences; was a Senior Executive Fellow at the John F. Kennedy School of Government, Harvard University; and received a PhD at the Uniformed Services University of the Health Sciences, completing a dissertation in epidemic modeling. In addition, she has had numerous public health peer-reviewed abstracts, oral presentations, articles, and chapters over her career.