VA has developed the following materials for Veterans and health care providers about radiation and health problems from exposure. The materials are not copyrighted and may be reproduced.
Newsletters – Ionizing Radiation Review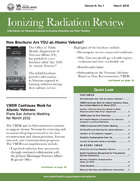 Brochures
The Are YOU An Atomic Veteran? brochure (1.2 MB, PDF) provides information on presumptive service‑
connected health conditions, health registry, benefits and claims, and Veterans' Advisory Board on Dose Reconstruction.
Clinical Education Guide (Veterans Health Initiative)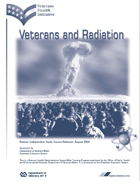 Veterans and Radiation, a Veterans Health Initiative independent study guide, provides clinicians an overview of issues facing Veteran patients who may have been exposed to radiation during military service.
The guide covers effects of:
Ionizing radiation in Hiroshima and Nagasaki, in U.S. atmospheric nuclear weapons tests that ended in 1962, and in small amounts in depleted uranium used in the Gulf War
Non-ionizing radiation from radar and other sources