Aram Dobalian, Ph.D., M.P.H., J.D.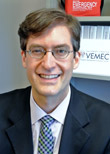 Dr. Aram Dobalian is the founding Director of the Veterans Emergency Management Evaluation Center (VEMEC) in the U.S. Department of Veterans Affairs, Office of Public Health. VEMEC serves and honors America's Veterans through its work on cutting-edge policy and operations questions that support VA's "Fourth Mission" – to improve the Nation's preparedness for response to war, terrorism, national emergencies, and natural disasters by ensuring continuity of veterans care; and to support national, state, and local emergency management, public health, safety, and homeland security efforts. As the Director, Dr. Dobalian oversees all of the Center's activities, including its applied research and evaluation projects. These projects are designed to build an evidence base to improve VA's emergency management operations.
Dr. Dobalian received his Ph.D. in Health Services Research from the University of California, Los Angeles (UCLA) Jonathan and Karin Fielding School of Public Health with an academic cognate in Social Psychology, and his J.D. from Whittier Law School where he was Editor-in-Chief of the Whittier Law Review. He received his M.P.H. in Health Services Organization from UCLA, and his B.S. in Physics from Vanderbilt University. Dr. Dobalian joined VA in 2004 after receiving a VA Health Services Research and Development career development award. Prior to coming to VA, he was an Assistant Professor in the Department of Health Services Research, Management and Policy at the University of Florida.
In 2008, Dr. Dobalian led the development of the first national VA Comprehensive Emergency Management Program Evaluation and Research Agenda. This agenda initiated efforts aimed at positioning VA as a recognized leader in emergency management research by fostering the conduct of VA-based emergency management research and promoting new practices that improve care delivery during and after emergencies and disasters. These efforts led to the founding of VEMEC in July 2010.
Dr. Dobalian holds appointments in the UCLA Schools of Public Health and Nursing. He is a member of the Delta Omega Honorary Society in Public Health, and a member of the Upsilon Phi Delta National Academic Honor Society in Healthcare Administration. He is also a member of the State Bar of California. He has authored numerous peer-reviewed articles, book chapters, and reports.