VA has recognized that certain birth defects among Veterans' children are associated with Veterans' qualifying service in Vietnam or Korea.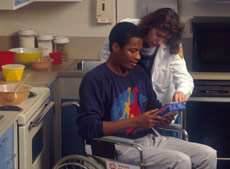 The affected child must have been conceived after the Veteran entered Vietnam or the Korean demilitarized zone during the qualifying service period.
VA benefits
Children with spina bifida or covered birth defects who are biological children of Veterans with qualifying service may be eligible for compensation, health care and vocational training.
Learn more about benefits for Veterans' children with birth defects.
Other Exposures
Contact VA
Birth Defects Benefits
» 1-888-820-1756
» 1-800-829-4833 (TDD)