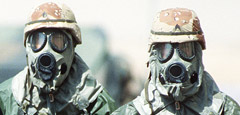 VA and research organizations continue to evaluate possible causes of Gulf War Veterans' chronic multisymptom illnesses, including chemical and biological weapons.
VA presumes certain medically unexplained illnesses are related to Gulf War service without regard to cause.
Khamisiyah, Iraq chemical storage demolition
Rockets filled with sarin and cyclosporine mixes were found at a munitions storage depot in Khamisiyah, Iraq that had been demolished by U.S. Servicemembers following the 1991 Gulf War cease-fire. An undetermined amount of these chemicals was released into the atmosphere.
The Department of Defense concluded about 100,000 Gulf War Veterans could have been exposed to low-levels of these nerve agents.
Go to GulfLINK, a Department of Defense website, to learn more about U.S. demolition operations at Khamisiyah, Iraq.
VA benefits
Gulf War Veterans may be eligible for a variety of VA benefits, including a Gulf War Registry health exam, health care, and disability compensation for diseases related to military service. Their dependents and survivors also may be eligible for benefits.
Learn more about benefits related to Gulf War service.
Research on chemical and biological weapons
VA continues to monitor Gulf War Veterans' health issues and conduct research. Below are reports on past research on chemical and biological weapons and Gulf War Veterans.
View more research on health effects of Gulf War service.