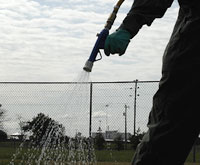 VA and research organizations evaluated exposure to pesticides during Gulf War service as a possible cause of Gulf War Veterans' chronic multisymptom illnesses.
VA has concluded that the evidence does not support an association. Read the Federal Register notice for the rationale behind VA's decision.
VA still, however, presumes certain medically unexplained illnesses are related to Gulf War service without regard to cause.
Pesticides used in the Gulf War
Pesticides used in the Gulf War fall into several major categories:
Methyl carbamate organochlorine pesticides (lindane), used to treat uniforms
DEET, used on the skin as an insect repellent
Organophosphorus (OP) pesticides
Pyrethroid pesticides (primarily permethrin)
The first two (lindane and DEET) were used as personal insect repellents, lindane to treat uniforms and DEET on the skin. All other pesticides shipped to the Gulf region were to be used only by specially trained individuals or for specific applications.
VA benefits
Gulf War Veterans may be eligible for a variety of VA benefits, including a Gulf War Registry health exam, health care, and disability compensation for diseases related to military service. Their dependents and survivors also may be eligible for benefits.
Learn more about benefits related to Gulf War service.
Research on pesticides and Gulf War Veterans
VA continues to monitor Gulf War Veterans' health issues and conduct research. Below are reports on past research on pesticides and Gulf War Veterans starting with the most recent report.
View more research on health effects of Gulf War service.