Veterans may be eligible for disability compensation (a monthly monetary allowance) for injuries or diseases related to active military service. We call these disabilities "service-related" or "service-connected."
Eligibility for disability compensation
Veterans may be eligible for disability compensation if they have a service-related disability and were discharged under other than dishonorable conditions.
VA recognizes that specific disabilities diagnosed in certain Veterans were caused by their military service. This is called "presumptive service-connection." For Veterans exposed to ionizing radiation during service, we recognize certain cancers and other diseases.
Find out more about eligibility for disability compensation, including how much VA pays.
How to apply
You may apply for disability compensation online.
After VA receives your application, we send you a letter that explains what we need in order to help grant your claim. We will help you get records to support your claim, including records of radiation exposure during military service and radiation dose information.
Learn more about the disability claims process.
VBDR helps improve claims process
VA has adopted improvements to the claims process recommended by the Veterans' Advisory Board on Dose Reconstruction (VBDR) which provides guidance and independent oversight of the claims process for Atomic Veterans.
One major improvement was consolidating the handling of radiation claims at the Jackson, Mississippi VA Regional Office.
Additional Benefits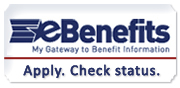 Other Exposures