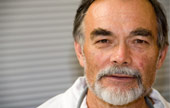 Hepatitis Awareness Month
If you're a Vietnam-era Veteran, your chances of having hepatitis C are greater than for other Veterans. Talk to your provider about getting tested.

Learn More
The U.S. military sprayed millions of gallons of Agent Orange and other herbicides on trees and vegetation during the Vietnam War. Several decades later, concerns about the health effects from these chemicals continue. VA offers eligible Veterans a free Agent Orange Registry health exam for possible long-term health problems related to exposure.