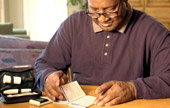 Diabetes Mellitus Type 2
Veterans with diabetes mellitus type 2 who were exposed to Agent Orange may qualify for VA benefits. Help prevent diabetes by exercising and eating healthy.

Learn More
The U.S. military sprayed millions of gallons of Agent Orange and other herbicides on trees and vegetation during the Vietnam War. Several decades later, concerns about the health effects from these chemicals continue. VA offers eligible Veterans a free Agent Orange Registry health exam for possible long-term health problems related to exposure.