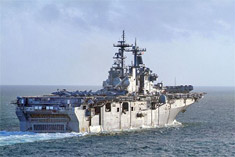 Project 112/Project SHAD, or Shipboard Hazard and Defense, was a series of tests conducted by the Department of Defense between 1962 and 1974. Service members participated in conducting the tests. The purpose was to determine the potential risks to U.S. warships and American forces from chemical and biological warfare agents.
To date, there is no clear evidence of specific, long-term health problems associated with participation in Project SHAD. VA is sponsoring a follow-up to the Institute of Medicine study, expected to be available in 2014.
VA Benefits

View benefits for Veterans of Project 112/SHAD and their survivors.

 

Publications & Reports

View publications and other materials related to Project 112/SHAD.

 

Provider Resources

VA has resources to help providers care for Veterans.