VA pays monthly disability compensation to Veterans for diseases related to military exposures during service. We call these disabilities "service-related" or "service-connected."
Eligibility for disability compensation benefits
Veterans may be eligible for disability compensation if they have a service-related disability and were discharged under conditions other than dishonorable.
VA also presumes that specific disabilities diagnosed in certain Veterans who were exposed to radiation or Agent Orange or served in the Gulf War (August 2, 1990 to present) were caused by their military service.  This is called "presumptive service-connection."
VA presumes that amyotrophic lateral sclerosis (ALS) diagnosed in all Veterans with 90 days or more of continuous active service in the military was caused by their military service. ALS, however, is not associated with a specific hazardous exposure. 
Learn more about eligibility for disability compensation and how much VA pays.
How to apply
Veterans may apply for disability compensation online.
Vietnam Veterans with chronic b-cell leukemias, Parkinson's disease, or ischemic heart disease may apply for disability compensation for these diseases using VA's Fast Track Claims Processing System.
After VA receives your application, we'll send you a letter that explains what evidence we need in order to grant your claim. We will help you get records to support your claim. Learn more about the disability claims process.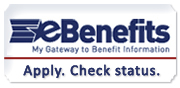 Additional Benefits
Contact VA
Disability Compensation
1-800-827-1000
1-800-829-4833 (TDD)