VA and research organizations continue to evaluate possible causes of Gulf War Veterans' chronic multisymptom illnesses, including exposure to oil well fires, smoke and petroleum.
VA presumes certain medically unexplained illnesses are related to Gulf War service without regard to cause.
Exposure during the Gulf War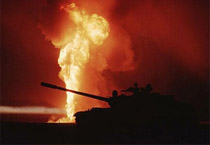 Between February to November 1991, Iraqi armed forces ignited oil well fires, producing dense clouds of soot, liquid, aerosols and gases.
Plumes of billowing smoke remained low to the ground, in some areas enveloping U.S. military personnel.
Exposures were highest during wintertime encampments in Saudi Arabia.
VA benefits
Gulf War Veterans may be eligible for a variety of VA benefits, including a Gulf War Registry health exam, health care, and disability compensation for diseases related to military service. Their dependents and survivors also may be eligible for benefits.
Learn more about benefits related to Gulf War service.
Research on oil well fires, smoke and petroleum exposure
VA continues to monitor Gulf War Veterans' health issues and conduct research. Below are reports on past research on oil well fires, smoke and petroleum exposure and Gulf War Veterans.
View more research on health effects of Gulf War service.