VA's Environmental Health Program publishes the Operations Enduring Freedom/Iraqi Freedom Review newsletters for Veterans who served in Operation Enduring Freedom/Operation Iraqi Freedom (OEF/OIF) and their families. The newsletters provide information about possible long-term health problems from military service during OEF/OIF and what VA is doing.
Subscribe to email updates and notices of published newsletters.
Below is a list of all published newsletters by date.
2010 | 2008 | 2007 | 2006 | 2005 | 2004 | 2003
2010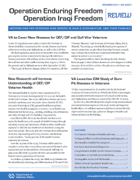 December 2010 - Vol 6, No 2 (355 KB, PDF)
VA to Cover New Illnesses for OEF/OIF and Gulf War Veterans, New Research will Increase Understanding of OEF/OIF Veteran Health...
2009
None issued
2008
June 2008 – Vol 5, No 2 (801 KB, PDF)
Lead story: Peake Takes Actions to Support New Combat Veterans
2007
October 2007 – Vol 5, No 1 (1.7 MB, PDF)
Lead story: VA Medical Centers Extending Hours Change Benefits New Combat Veterans, Older Vets
July 2007 – Vol 4, No 2 (693 KB, PDF)
Lead story: Presidential Task Force Proposes Improved Services for GWOT Veterans
April 2007 – Vol 4, No 1 (728 KB, PDF)
Lead story: Blast Injury: IEDs as the Current Weapon of Choice
2006
February 2006 – Vol 3, No 1 (406 KB, PDF)
Lead story: Budget Request for VA tops $80 Billion: Continues Commitment for VA/DoD Cooperation on Seamless Transition for New Veterans
2005
September 2005 – Vol 2, No 2 (500 KB, PDF)
Lead story: VA Seamless Transition Office Helps Veterans
February 2005 – Vol 2, No 1 (763 KB, PDF)
Lead story: New Report on Health Effects from Fuels, Combustion Products, and Propellants
2004
June 2004 – Vol 1, No 2 (534 KB, PDF)
Lead story: VA Expands Outreach to Veterans
2003
December 2003 – Vol 1, No 1 (581 KB, PDF)
Lead story: OIF/OEF Review – The Inaugural Issue