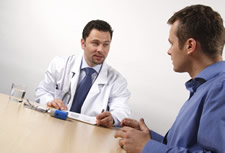 VA's health registry evaluation is a free, voluntary medical assessment for Veterans who may have been exposed to certain environmental hazards during military service.
The evaluations alert Veterans to possible long-term health problems that may be related to exposure to specific environmental hazards during their military service.
VA has established several health registries to track and monitor the health of specific groups of Veterans. The registry data helps VA understand and respond to these health problems more effectively.
VA is working on a new Airborne Hazards and Open Burn Pit Registry for OEF/OIF/OND and 1990–1991 Gulf War Veterans.
You may be eligible to participate in one or more of these health registries:
Contact your local VA Environmental Health Coordinator about getting a registry evaluation. You do not need to enroll in VA's health care system to take part.
Interested in disability compensation?
The registry evaluation is separate from VA's disability compensation process and does not confirm exposure to environmental hazards during military service.
Veterans who want to be considered for disability compensation for exposure-related health problems must file a claim for that benefit.
During the claims process, VA will check military records to verify exposure to the claimed environmental hazard or qualifying military service. If necessary, VA will set up a specific compensation examination.
Related Brochure
Additional Benefits