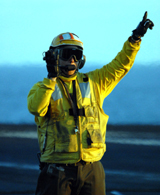 Clinicians can learn about caring with Veterans with hearing loss from the Veterans Health Initiative (VHI) study guide, Hearing Impairment (3.91 MB, PDF).
Hearing loss is one of the most common military service-related injuries. Hearing loss is a growing complaint for today's Veterans because of their history of noise exposure, coupled with aging of many Veterans. The study guide provides an overview of diagnosis, prevention, and treatment of hearing loss.
Sections include:
Incidence of hearing loss during military service
Measuring hearing loss and reporting results
Prevention of noise-induced and ototoxic hearing loss
Treatment for hearing loss
The guide is useful for VA and non-VA health care providers caring for Veteran patients. Veterans and the public also may be interested in the guide to learn more about symptoms and treatment.