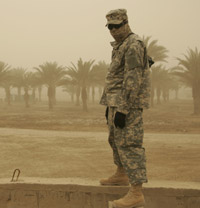 Clinicians can learn about the health effects of infectious diseases of Southwest Asia from the Veterans Health Initiative (VHI) study guide, Endemic Infectious Diseases of Southwest Asia (1.83 MB, PDF).
The study guide provides an overview of the specific health conditions experienced by Veterans who served in Southwest Asia, particularly during military conflicts in Afghanistan and Iraq. The focus is on diseases not typically seen in North America.
Sections include:
History of infectious disease in Afghanistan and Iraq
Endemic infectious diseases in Southwest Asia
Infectious diseases of military importance
Norovirus infection in Afghanistan
Diagnosis of infectious disease in Southwest Asia
Prevention and treatment
The guide is useful for VA and non-VA health care providers caring for Veteran patients. Veterans and the public also may be interested in the guide to learn more about symptoms and treatment.