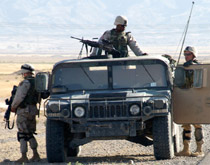 Clinicians can learn about post-traumatic stress disorder (PTSD) and the psychological and physical issues facing Veterans with PTSD from the Veterans Health Initiative (VHI) study guide, Post-Traumatic Stress Disorder: Implications for Primary Care (2.16 MB, PDF).
PTSD is associated with neurobiological dysregulation and increased utilization of medical services. One objective of this guide is to help clinicians recognize, refer to treatment, educate, and support Veterans with PTSD and their families.
Sections include:
Why screen Veterans for PTSD
Nature and impact of sexual trauma
Guidelines for screening
Treatments/pharmacology for PTSD
Patient-Provider relationship
Models of care
The guide is useful for VA and non-VA health care providers caring for Veteran patients. Veterans and the public also may be interested in the guide to learn more about symptoms and treatment. Visit the National Center for PTSD website for information geared to Veterans.