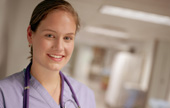 War Related Illness and Injury Study Center
This national center focuses on improving the health of Veterans with post-deployment concerns. Ask your VA provider about a referral.

Learn More
Certain illnesses are associated with Gulf War service in the Southwest Asia theater of military operations during the first Gulf War starting August 2, 1990 through the conflict in Iraq. VA offers eligible Veterans a free Gulf War Registry health exam to find possible long-term health problems related to Gulf War service.